Welcome to the 2020 Virtual Back to School Night! We are excited 
to

share our curriculum information with you and have you meet our wonderful teachers. Before the evenings live sessions, be sure to read the message below from Principal Raboli, Board of Director's Chair Joe Whitehead, and the Parent Advisory Committee!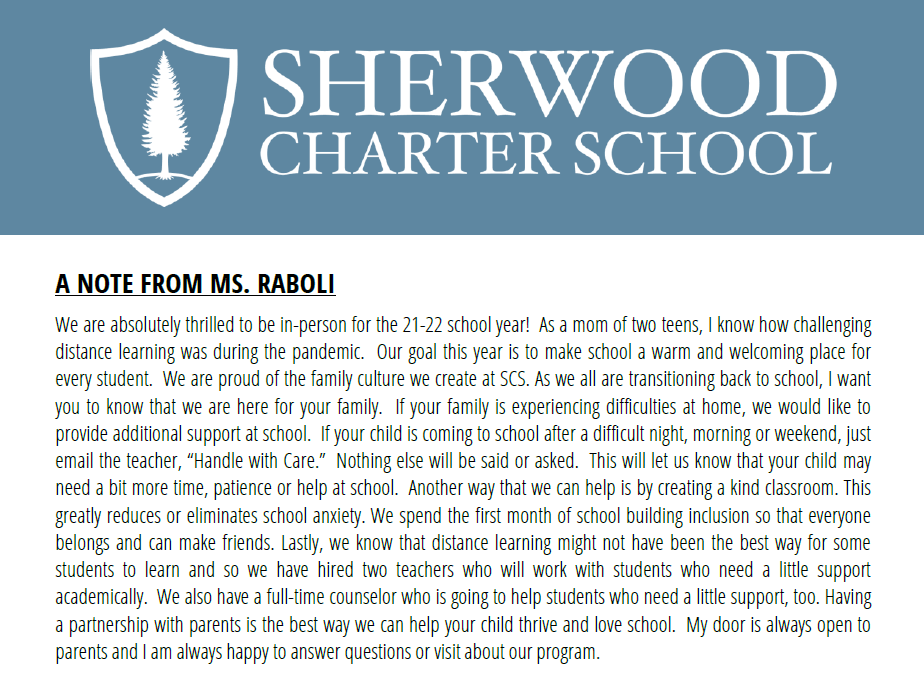 Middle School and Elementary Back to School Night Schedules
See each section below for the links to the scheduled live sessions. Two Elementary live sessions will be hosted for those with multiple students. You do not need to attend both sessions as they will contain the same information. If you have a middle school and elementary student, make sure you attend the middle school session from 6:00 – 6:30 pm as they do not repeat the presentation.
If the Meet is requiring you to sign in with a Google account and you do not have one, you may login with your student's account to join. You can also use a phone to call in if you do not want to sign in to join the Meet. To do so, click on the session link below, then select "Join and use a phone for audio" and click "Dial In".
If you have any technical issues, please contact the office at office@sherwoodcharterschool.org.