Back to School Night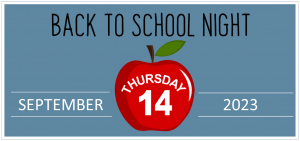 Back to School Night is on Thursday, September 14th for parent/guardians only. We are excited to share our curriculum information with you and have you meet our wonderful teachers. Below is the schedule, we will conclude the evening at 8:00 pm. Click here to view the flyer.
Middle School
5:05 pm Arrival Time
Middle School Parents/Guardians should start at the Leadership Academy portables and upon arriving check in at your students home room classroom (classrooms will be labeled). Families will have a chance to rotate through all Middle School presentations listed below beginning at 5:15 pm.
5:15 – 6:15 pm Middle School Presentations:
Mr. Winningham: Math, Grading & Synergy; Ms. Knee: Art, Electives & HEART Skills
Mrs. Ilis: Humanities, Planners & Conferences; Mrs. Stuckey: PE, Uniforms & Schedules
Ms. Carson: Science, Communication & Student Accountability; Mrs. DuPriest: Band, Houses & Field Trips
Principal, School Board, PAC Presentation at Auditorium
6:30-6:55 pm
All parents/guardians are invited to the Auditorium for a whole school presentation from Ms. Raboli, the SCS Board and the Parent Advisory Committee.
Elementary
Elementary classes will hold two sessions for those with multiple students in your student's classroom. You do not need to attend both sessions as they will contain the same information.
7:00—7:25 pm – First Session
7:30 – 7:55 pm – Repeat of the First Session (for families with multiple students)
Looking for the Academic Calendar? Find it on the Parent Resources page here.