In preparation for returning to Hybrid in-person learning, SCS has a Transition Committee that consists of staff, teachers, parents and the school board. As you can imagine, there is a lot of planning and considerations that need to take place for the transition to hybrid in-person learning. The transition committee has been busy reviewing guidance, sorting out available resources and considering the needs of students, parents and staff. We all know that school will look different when we return in-person and we have put together an overview visual of how things will be different. As weeks progress, we will continue to refine details to this overview so you can see how things evolve.
Included in the overview is a link to the 2021 Hybrid Transition Planning Survey to collect your preferences for participating in hybrid in-person learning or comprehensive distance learning. Please complete this by February 9th to help facilitate planning.
Click here to view the Hybrid Transition Overview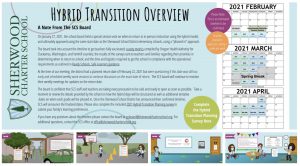 A Note From The SCS Board
On January 27, 2021, the school board held a special session vote on when to return to in-person instruction using the hybrid model, and ultimately approved using the same start date as the Sherwood School District elementary schools, using a "phased in" approach.
The board took into account the timeline to get teachers fully vaccinated; county metrics compiled by Oregon Health Authority for Clackamas, Washington, and Yamhill counties; the results of the surveys sent to teachers and families regarding their priorities in determining when to return to school; and the time and logistics required to get the school in compliance with the operational requirements as outlined in Ready Schools, Safe Learners guidance.
At the time of our meeting, the district had a planned return date of February 22, 2021 but were questioning if this date was still too early and scheduled weekly work sessions to continue discussion on the exact date of return.  The SCS board will continue to monitor their weekly meetings for updates on the return date.
The board is confident that SCS staff and teachers are taking every precaution to be safe and ready to open as soon as possible.  Take a moment to review the details provided by the school on how the hybrid days will be structured as well as additional tentative
dates on when each grade will be phased in. Once the Sherwood School District has announced their confirmed timeline,
SCS will announce the finalized dates. Please also complete the included 2021 Hybrid Transition Planning survey to
submit your family's learning preferences.
View the full Hybrid Transition Overview here.